ever since i was a little girl i have dreamed of many things. all of them, whether they be astronaut, actress, dancer, artist, writer, required that i be a strong independent woman. they all required that i have focus and determination and drive. they all DEMANDED my commitment and investment, as any worthwhile dream should.

susanhenschen.wordpress.com
even though many of those dreams were not to be, there were two in particular that i am still holding onto today. one day i wish to be a dancing astronaut.

www.fotosearch.com
only kidding. it's virtually impossible to tap dance in little to no gravity scenarios....errr...at least i imagine it is since i've never actually tried it.
ANYWAY.
the two dreams that i am still holding onto and pursuing are: artist and writer.

artslink.wordpress.com
through everything, every day, bad or good, the number one ways in which i seek to express myself or my feelings are through writing and art. some days i act on that desire, lately, many i don't. it has been a bad habit of mine to let my dreams take second seat. i am so done with that.

thumbs.dreamstime.com
i have been dying to reach for the sky, so to speak. i had a feeling about this year when it quickly approached and i still have that feeling now that we are almost two months into it. and two months into it i am not pleased with my progress or my mental state. i am not happy. i should be. this is MY year! i just need to seize it!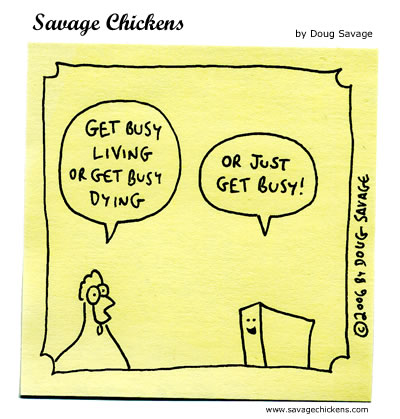 www.savagechickens.com
there are so many things i am doing right now that are not conducive to productivitiy or creativity for that matter. i have an opportunity to make my life better. to pursue my dreams. to put my nose to the grindstone of my choice. why am i not doing all i can to make sure that i will be spending many years to come making a living doing what i love? why am i not running like my life depended on it? i would not be happy waking up for my day job the rest of my life, when i know i could be waking up to a studio, a painting, a children's book in progress with only me, my coffee and my imagination left to run wild all day. i want that. and i am going to have that.
blogs.infosupport.com
the next few weeks will involve some revamping of my creative situation. it's do or die for me at this point...not THAT dire, but i'm serious and seriously not going to give up on my dreams or let them take the back burner anymore.
ciao for now, lovelies. i am off to work on a very promising little painting.
*mwah*
Renea Hanna
Penny Threads.
P.S. I also have a TWITTER: www.twitter.com/pennythreads
and a FACEBOOK: www.facebook.com/pennythreads
ADD ME! pretty please. ;)